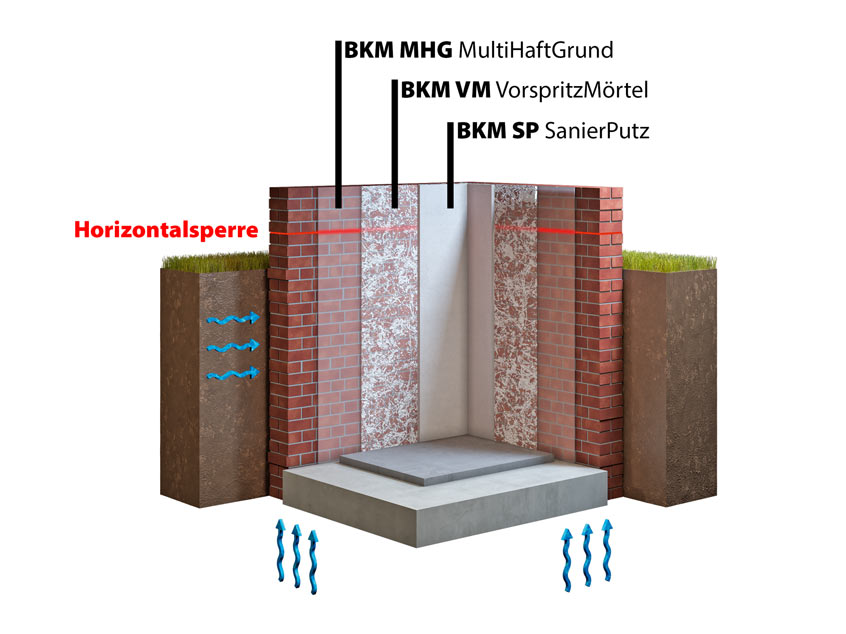 Restoration plaster and negative barriers

Combating mould with a proven multi-layer system
Whether we look for organic products when we go shopping in the supermarket or exercise regularly to keep fit: More and more people are making sure they do something good for their bodies. This includes the topic of healthy living, because after all, one's own four walls are the central place of well-being for the whole family. A healthy indoor climate is indispensable for a healthy living environment. Besides chemical pollutants such as volatile organic compounds or house dust mites, it is mainly mould that can damage the health of the occupants and, of course, of the building.
The culprit is often a defective seal on the outer wall that allows water to penetrate the wall work, causing the seal to separate from the building component. The result is water damage under pressure, accompanied by increased fungal growth. If exterior waterproofing is hampered by a terrace overhang, dense trees or other planting, interior waterproofing is the right solution.
Restoration plaster renovation is as simple as it is efficient. First, the diffusion-open, mineral slurries are applied in layers to the affected wall work. Further preparation of the plaster surface is followed by the pre-spray mortar, which ensures a secure bond between the mineral substrate and the new plaster layer.
Finally, the pressure-resistant, quickly hardening and breathable barrier plaster is applied – the new waterproofing is ready! Since the cause of the moisture damage has been removed by waterproofing, some time will pass before the wet wall dries out. Depending on the ventilation situation, it can take up to two years for the existing moisture to dry completely. Our ventilation systems can guarantee sufficient air exchange.
To remove the remaining moisture and salt damage to the wall, a renovation plaster system can be added if necessary. If you would like to have the professionals of BKM Mannesmann on your side as a strong partner in the fight against moisture, please visit www.bkm-mannesmann.nl or make an appointment with us for a free damage analysis.